IT
Gregg Braden
- Live Streaming -
Limited offer valid until 12 February
Pay only € 177
•
Live Streaming
4th-5th April 2020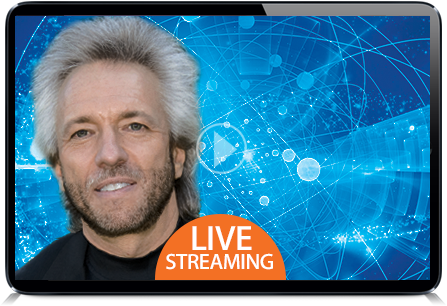 Between science and spirituality
Everyone knows that the world is changing very quickly.
There are different solutions that we might adopt in this moment, but the problems of the world seem to be enormous.
This workshop will address such issues that affect our lives and discover what we can do to make it better.
From now the world will be managed by persons defined as "synthesizers". But what exactly does it mean?
They are people who know how to combine the right information at the right time, reflect on them with critical spirit and make important decisions and wise.
Nowadays it is more and more useful to learn a little' on many topics to run our lives and it is for this reason that this course is born.
In these two days we will speak of the great problems of the world, of new scientific data, of ancient wisdom and power that the human heart, capable of changing our bodies and our lives.
You will learn strategies and techniques to achieve this result. Even thou doest part of the generation of the turning point.

I invite you to reflect on this thing: think how much force we want to be in your place. Once you have changed your heart, the change will be reflected on the world.
Limited offer until 12 February

Monday - Friday: 10.00 pm - 6.00 pm
(Central European Time)
[email protected]
Timetable
(Central European Time)
SATURDAY, 4th April
8.30am - 10.00am Registration
10.00am - 1.00pm Workshop
1.00pm - 2.30pm Lunch
2.30pm - 6.30pm Workshop

SUNDAY, 5th April
8.30am - 9.30am Main room open
9.30am - 1.00pm Workshop
1.00pm - 2.30pm Lunch
2.30pm - 4.30pm Workshop

Translation

The workshop is held in English,
with simultaneous translation in Italian and German
(included in the registration fee)
How the online courses work
#1 Do I need a special device to watch the online courses?

No, you don't. You can watch the online courses from any computer of any operating system (Mac, Windows).
Just note that the quality of your viewing experience depends on the quality of your Internet connection.
#2 Can I log onto the online courses from my iPad or smartphone as well?
Yes, sure. You can follow the online courses from any tablet and smartphone.
#3 How can I register for the online courses?

Click on the orange buttons to purchase.
#4 How long will I have to wait to watch the online course after registering?
If you pay with a credit card or PayPal, you will immediately get the online course in your Personal Area. If you pay through bank transfer, you will get the online course after your payment has been confirmed.
#5 Who can I call for assistance?
If you need technical assistance to log in and watch the online courses, contact My Life with an email to [email protected] or you can call the phone number + 39 0541 341038 from Monday to Friday, from 10 am to 6 pm Italian time. My Life srl is in Italy and their help desk is provided both in Italian and English.
Disclaimer
This online course contains the teachings and ideas of the author related to the topic addressed in the course. With the course neither the authors nor the publisher intend to dispense medical advice as a form of treatment of physical problems. The intent of the authors and the publisher is to offer general information to support you in the search for physical, emotional and spiritual well-being; in no way should the online course be intended as a substitute for diagnosis and medical treatments. In case of potential and / or ascertained physical ailments, please consult your doctor before using the information contained in the course. The authors and the editor decline any responsibility deriving from the application you intend to make of the material proposed in the course for yourself or third parties. The online course will be active and usable in your Personal Area for 10 years from the date of purchase.
All rights reserved. Reproduction by any means is prohibited, except with the prior authorization of the Publisher.
Gregg Braden
Gregg Braden is a five-time New York Times best-selling author, researcher, educator, lecturer and internationally renowned as a pioneer bridging modern science, ancient wisdom, and human potential!
From 1979 to 1990 Gregg worked as a problem solver during times of crisis for Fortune 500 companies. He continues problem-solving today as he merges modern science and the wisdom of our past to reveal real-world solutions to the issues that challenge our lives. His research has led to 12 award-winning books now published in over 40 languages.
Gregg has presented his discoveries in over 30 countries on six continents and has been invited to speak to The United Nations, Fortune 500 companies and the U. S. military. The United Kingdom's Watkins Journal lists Gregg among the top 100 of "the world's most spiritually influential living people" for the 5th consecutive year, and he is a 2020 nominee for the prestigious Templeton Award, established to honor "outstanding individuals who have devoted their talents to expanding our vision of human purpose and ultimate reality."
Limited offer valid until 12 February
You can view and review the complete registration of the course as many times as you want,
directly from your computer, tablet and smartphone wherever you are