IT
Quantum Experience
Garda Lake
June 15th-16th 2019
Dr. Roy Martina, Dr. Joy Martina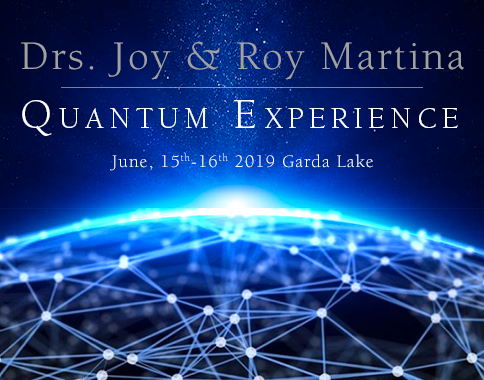 Subscribe now | Venue | Timetable | FB Community

Click here for more information about the Streaming workshop >
Quantum Experience
The Human Experience Taken to the Quantum Level
The payment with bank transfer may not be verified in time for the live stream.
If you proceed in this way you will see the full workshop from Wednesday 19th June 2019.

And if i could become more "lucky" (technically, more intuitive), so as to know when to act and when instead wait; whom you can trust and who not?
Join us for this special weekend in June where we will teach you our secrets to become the best version of yourself!
Watch the invitation of Joy and Roy Martina
to their workshop of 2 days at Garda Lake
We know for certain that this experience can change your life for the better. We call it the Quantum Experience!
How to Unlock Your Maximum Potential
In order to live your best life, you first have to become your most POWERFUL SELF!
Your most powerful self has the same DNA, the same education and the same life experiences as you, but with one big difference: that Powerful You has more access to its resources and because of that, does not experience the anxiety (stress) of life!
Imagine waking up every morning without a single worry because you know, no matter what happens, you're doing your absolute best to maximize your potential and get the most out of each and every experience, moment and relationship
It seems that your alter ego is luckier, things go easier, they don't stress themselves, take more time for themselves, are more disciplined, they exercise, meditate, read books and spend less time doing worthless things like social media or watching endless hours of television because they are dedicated to personal development, taking care of themselves and doing what is good for their body. They have educated themselves better about their body, mind and soul!
What if there was a way to quickly and easily transform your life to match your more ideal lifestyle to this alter ego or ideal self?
Interested? Keep reading!
You will become congruent with your most POWERFUL SELF!
In this training, you will program your brain for Quantum Success and to allow miracles in your life!
There are 3 levels of goal-setting:
The Realistic Level:

you make a plan and you work hard to achieve your goals, this is the normal way. You know

HOW

to do it!

The Think very Big Level:

some of these people are dreamers (they dream and don't act), others are achievers who think big and are willing to stretch way out of their comfort zone. In order to make it here you have to be very creative and come up with something totally different. Think Uber, AirBnb, Tesla, etc. You have to be

CREATIVE

to do it, you only know half of the

HOW

!

The Quantum Level:

these goals, most people consider impossible goals, far out of reach of the comfort zone. These goals are impossible to make happen with anything we can think of except being extremely lucky like winning the big lottery. This impossible out of reach level, you do not know the

HOW

, you have to be

LUCKY

or experience a

MIRACLE

!
Timetable
Saturday, June 15th
8.30am - 10.00am Registration
10.00am - 1.00pm Workshop
1.00pm - 2.30pm Lunch
2.30pm - 7.00pm Workshop

Sunday, June 16th
8.30am - 9.30am Main room open
9.30am - 1.00pm Workshop
1.00pm - 2.30pm Lunch
2.30pm - 4.00pm Workshop

Translation

The workshop is held in English,
with simultaneous translation in Italian
included in the fee
Quantum Experience
The Human Experience Taken to the Quantum Level

Monday - Friday: 10am - 6pm
[email protected]

The price includes:
Admission to the workshop
Simultaneous translation
Teaching material
Water during the workshop

Our Fear of Success is 10x Bigger Than Our Fear of Failure!
Most people never get past the mountain of fear of failure because if the fear of failing is big enough, they will never discover that they have an even bigger fear, and that is the fear to become bigger than they can imagine possible. Most people choose security and stay in their comfort zone.
Those that escape the safety of the illusion of security often are stuck in believing that they cannot be as successful as they want to be and settle for less.
To be your most POWERFUL SELF, you first have to let go of the fear of being powerful (we will work on that this weekend). You will go home with tools that you can use for life. You can heal your body, change your beliefs and become stronger mentally, physically and spiritually with the techniques you will learn.
What Will You Take Home With You?
You will learn how to improve your talents and skill sets 5x faster with a technique discovered by Roy and a Russian psychologist named Raikov. He discovered how to improve the skill sets of musicians with a half hour guided meditation! Joy and Roy have improved on this concept and now it is even faster and more effective and is called the "Roykov"method.

You will learn how to use a simple balancing technique using acupressure points that will give you control over your mind and emotions.

You will learn what to do to see your best life and get ideas of how great your future will be

.

You will learn how to know what your

POWERFUL SELF

will be and how to align yourself with your most

POWERFUL SELF!

You will learn how to use your intention better and to make it more powerful

.

You will have deleted all fears about becoming your most

POWERFUL SELF

!

You will learn how to stop sabotaging yourself and will reprogram your brain!
Once you have seen what Quantum can do for you then you will want to create the best life possible and become the Greatest, Grandest version of you! That is your POWERFUL SELF!
Venue

The workshop will be held at Parchi del Garda Hotel, in Pacengo di Lazise.
Quantum Experience
The Human Experience Taken to the Quantum Level

Monday - Friday: 10am - 6pm
[email protected]

The price includes:
Admission to the workshop
Simultaneous translation
Teaching material
Water during the workshop

For more informations write an email to [email protected] or
call

the office at +39 0541341038 from Monday to Friday, from 10.00am till 6.00pm