Module 1 Oracle Training®
- Streaming Workshop -
Dr. Roy Martina, Dr. Joy Martina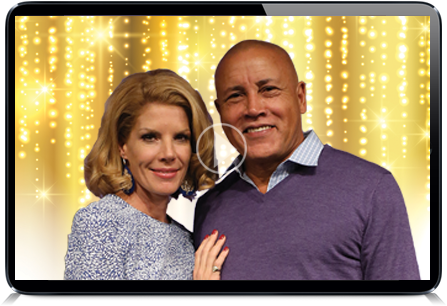 Joy and Roy Martina with a new exclusive intensive course of 4 days: The Quantum Leap
Follow live the exclusive course with Joy and Roy Martina, comfortably at home or wherever you are, on your computer, tablet or smartphone.
Sign up for the online course because it has a lot of benefits:
you have at your disposal forever the unabridged video and audio of the course forever, even if you cannot follow it live
you can do the exercises and follow it with your friends and family comfortably at home
you have a help desk at your disposal
you get the workshop sheets
you take part to the exclusive Facebook close group only for participants of the workshop
il corso online ti garantisce comunque l'opportunità di diventare Oracle Coach
(per diventare un Oracolo Certificato è richiesta la partecipazione ad almeno due corsi dal vivo e due in streaming)
if you attend the online course, you will have all the same the possibility to become Oracle Coach (to become Certified Oracle you need to attend at least two live courses and two in streaming)
you save about 400 euros from the fee entrance at the live course
Watch and listen the participants thinks about Quantum Leap
Once again Joy and Roy surprised everyone with the continuous research for new wellness methods.
Quantum Leap is focused on Quantum Physics.
No prerequisites are required to follow this workshop and it's open to everyone.
Anyone could benefit from these informations and to begin this new wellness path.

You will learn:
the grounding technique

the Karma bourning, which stands for Karma purification

to keep in balance the chakras to access the quantum field

to get rid of negative energies that affect the vibrational state
---
By purchasing this workshop, you will have:
Complete videocourse (19 hours)
Complete audiocourse (19 hours)
PDF certificate
Module 1
Oracle Training®
Quantum Leap

Monday - Friday: 10.00 am - 6.00 pm
(Central European Time)
[email protected]

Traduzione

The workshop is held in English,
with simultaneous translation in Italian and German
(included in the fee)
Become an Oracle Coach
To become Certified Oracle (Oracle Coach)
you need to attend at least two live courses and two in streaming
How the streaming works
#1 Do I need a special device to watch the course in streaming?

No, you don't. You can watch the course in streaming from any computer of any brand (Mac, Windows).
Just note that the quality of your vision depends on the quality of your ADSL connection.
#2 Can I log onto the streaming from my iPad or smartphone as well?
Yes, sure. You can follow the course in streaming from any tablet and smartphone.
#3 How can I register for the course in streaming?

Choose the device you prefer.
#4 How long will I have to wait to watch the course in streaming after registering?
If you pay with credit card and PayPal you will get immediately an email with your password to log in. If you pay through bank transfer, you will get your password after checking your payment.
#5 Who can I call for assistance?
If you need technical assistance to log in and watch the course in streaming, contact My Life with an email to [email protected] or you can call the phone number + 39 0541 341038 from Monday to Friday, from 10 am to 6 pm Italian time. My Life srl is in Italy and their help desk is provided both in Italian and English.
Dr. Roy Martina
Dr. Roy Martina is a renowned European holistic medical doctor, a profilic bestselling author (85 books), Business & Life Coach and Trainer/Speaker. One of his biggest international best-selling books is Emotional Balance (Hay-House).
He has worked and taught workshops with Deepak Chopra, Bruce Lipton, Eric Pearl, Masaro Emoto and many others.
He has developed many new holistic therapies such as Omega Healing and Remote Chi (Distance Healing). He has developed over a 1000 natural remedies sold in USA, China and Europe.
He has been a Holistic Doctor for 40 years and has taught over 250,000 therapists, doctors, managers and laypersons his techniques; millions of his 84 books have been sold.
Keynote Speaker: He is a world-renowned keynote speaker at conferences and seminars worldwide, and lectures throughout Europe, South and North America, Mexico, Russia, Taiwan, China and the Caribbean.
He works closely with his wife Joy Martina Ph.D., a psychic psychologist, Master Hypnotist, & Rapid Change Coach and Business Oracle. They reside in Asheville, North Carolina (USA).
Current projects:
Heart Healing revolution: Joy and Roy started the Heart Healing Revolution, a revolutionary practical approach to spirituality that is easy to do for everyone and leads to improves life quality and understanding the basic principles of spirituality and oneness.
Christallin Coaching Community (CCC): One on One coaching is expensive, CCC offers a cheap alternative where anyone interested gets group coaching and support on all their issues of interest and also there is the opportunity to ask personal questions.
Christallin Oracle Certification Training: This international training is to certify individuals in what are considered to be psychic skills, like channeling, astral traveling, remote viewing, shamanic journeys, advanced meditation and healing skills in Italy. See www.roymartina.it
Websites:
www.joyandroy.com
www.roymartina.it (Italian)
www.martinaacademy.com (Chinese)
www.roymartina.com (Dutch)
Dr. Joy Martina
Dr. Joy Martina is a Holistic Psychologist specialized in Rapid Change Coaching, an international bestselling Author ("Sleep Your Fat Away"), the Creator of the Christallin Oracle Training, a Master Hypnotist, international Trainer and Public Speaker (Europe, China, USA). Passion: Due to her own personal journey of being a single mother of 3 children and an entrepreneur, going through the ramifications of a painful divorce and overcoming incredible challenges in her life, Joy is passionate about helping others use more of their potential to create the life of their dreams.
She adores showing especially women how to get out of "stuck" states like depression, guilt-tripping, post-traumatic stress, weight-issues, emotional struggles and burn out; to discover how to thrive in challenging times, overcome past painful experiences and live a healthy, happy life. She is dedicated to helping children access and preserve their innate wisdom and happiness. Rapid Changes are the norm: Joy has an uncanny ability to uncover the subconscious patterns of sabotage in the brain and so get right to erasing the real cause for suffering.
Joy's clients enjoy extraordinary success rates and excel in manifesting profound, positive lifestyle changes within record time.
You can view and review the complete registration of the seminar as many times as you want,
directly from your computer, tablet and smartphone wherever you are