Kickstart Your Life
Garda Lake
2nd-3rd February 2019
2-day workshop only at € 197 or in streaming at € 107

Dr. Roy Martina & Dr. Joy Martina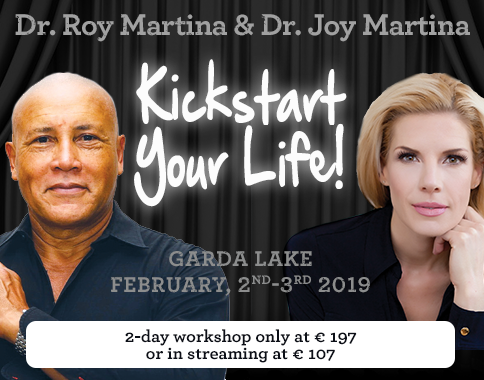 Live in Italy and online in 3 languages
In this weekend, Joy and Roy Martina will unveil some of the most effective and powerful
psycho-energy and emotional techniques that have developed recently

Joy and Roy talk about Kickstart, watch the video
Read Joy & Roy's message about this incredible workshop
The routine at Year's end
Every year we feel like a new fresh start, we go through our Christmas ritual and shortly after we toast and welcome the New Baby Year full of hope and expectations that it will be a better year or at least as good as the previous one.
Many of us make the intention of new goals, and habits we want to change!
We decide on new resolutions we want to make, and we are like children happy with candy and excited of what is possible and then what happens?
Same old story
If you are 100% honest you know it is all an illusion, I was not different than you and year after year I wrote down my goals for the New Year and then I went through the same routine as millions of others and after two weeks life was back to normal and it was like the end of year never happened!
Is that also true for you?
Our big change
In May 2011 I met Joy and end of December 2012 we got married and we made a promise to each other that we were going to support each other in our personal growth and that we will use any conflict as a door to healing the past and personal development.
We were fanatic and made incredible progress in just a few years' time and learned a lot about how to breakthrough years of blocks and sabotage patterns and everything changed in our lives, we became happier, more relaxed about life and everything else started to get better and better.
In the last 7 years we learned more about ourselves than all of our years before, we also made the techniques we use for solving our challenges much simpler and faster working!
We want to share this with you, so you too can have the breakthroughs you need to become happier, lose weight, stop smoking, make more money, have better relationships, etc.
20 minutes that resulted in losing 16 kilos of fat!
One of the big advantages I have had since meeting Joy is that she is my go-to Coach and can help me when I am stock and also vice versa.
In 2012 I decided to lose weight and in a workshop of weightloss Joy hypnotized me and gave me the suggestion that I had a gastric band surgery and my stomach was now 1/3 of it's normal size.
Since then I lost 16 kilos with grace, ease and joy. In the Kick Star Your life you will have tools that when you use them you too can break through habits that may have been in your life for decades. It can be that easy.
Are you ready to make 2019 the best year ever and each year thereafter?
Last year was the first time we began teaching this weekend Kickstart Your Life and we did it in Italy and Holland, the result were amazing and we received 100's of emails of what happened to people's life, many stopped smoking, some stopped drinking, some quit their job, some got divorced all because they made a commitment to themselves and had the tools to get their subconscious mind to work with their desired outcome! We will teach you how to do the same.
Subconscious enemy
If you look at an iceberg: 10% is above water, rest is under water. That is the same as your mind. 10% is conscious, the rest is subconscious or better said you have no idea what is going on, where your thoughts come from, your feelings and reactions. That is all happening below you conscious decision-making and often you have no idea why you feel resistance, or why you postpone things or even sabotage yourself while you want to do it, but something is holding you back. The reason is that your subconscious mind is formed before you turn 7 years and in that time the world was scary, and we had lack of self-confidence, that part of us that never grew up completely, is still ruling our world without us knowing it. Joy and I have the intention to teach you the same tools we use to breakthrough that invisible wall in our mind. How to make the invisible enemy your friend and support!
Easy decision that will change your year and life
We are giving you such a low price to change your life that you have to say yes to the best year ever! Business people will pay for a weekend like this easily 1000 euros or more because they can see the value for them in their business. Joy and I have coached business people and their business always does much better and we teach them the same tools we will teach you in this weekend. They will pay more because they see the enormous value, you only pay 10% of that.
But you have to decide today, last year this workshop sold out quickly and most people had to get livestream, last year more than 1000 people bought the live-stream from all over the world. But if you want to be with us in the room you have to act fast as it will sell out soon. Being in the room you will feel the energy of the group and that is always an unforgettable experience, where you make new friends and meet sometimes old friends, it is an unique experience and we get to party together!
Click on the button below and bring your partner, your children if they are over 16 years old and give them the gift that they will have for the rest of their lives! Also think of friends that may need a little help and forward them this email and personal invitation to join you on this exciting journey in 2019 and make it the best year yet!
Looking forward to seeing you
- Joy & Roy
---
Watch and listen to the words of the participants in the previous edition of this workshop
Nothing can replace the experience of being in the room with two dynamic Trainers, also to participate with other like-minded people is like going to a party or reunion where you will meet people you know and many new people.
The down side is travel, hotel and being away from home but you will go home with an ecstatic feeling of accomplishment that you will carry with you for years to come.
Everyone who will comes to our workshop in February will experience a change for the better in their lives, we will introduce a special new technique known as the "Raikov effect", a Russian scientist psychologist developed a method to download new resources in someone's nervous system and the effects are astounding. Mediocre students turn into geniuses and musicians perform at higher levels than their capacity and much more. Joy and Roy started exploring this for themselves and will be introducing their own unique version in the Power Kickstart your Life weekend for the first time in Italy!
THE BIG DIFFERENCE
The big difference with what they normally teach is that this weekend is focused on doing.
It is like getting in one weekend 8 private sessions from them and in each session you address an important issue of your life.

The following 8 themes will surely be addressed:
1. Self-confidence (managing & mastering the reptilian brain);
2. & 3. Health & Vitality (removing subconscious sabotages that you may have in these areas);
4. Live Longer (removing subconscious sabotages that you may have that will shorten your life);
5. & 6. Relationships with self and others (speaking your truth, be clear on what you want and don't want and being authentic, forgive and let go);
7. Spirituality (make time for connecting with your Higher Self, meditation etc.);
8. Matter (blocks regarding career, money and success).
READ ROY'S ANSWERS ABOUT THIS WORKSHOP




Why is this weekend called Kickstart your Life?
"Before we go into the reasons why we want to make an important scientific observation: Our brains are not designed for modern times! Our brains are an over 2 million years design to protect us against life threatening dangers like wild animals, rivaling unfriendly tribes and other perils. Our brains are not designed to make us happy, they are wired for survival. That means that our brains filter the world from one perspective only, its filtering system is based on fear and to check what can possibly go wrong.
The part of the brain with this function is called the reptilian brain and is always scanning the world for danger. But instead of sabre-tooth tigers and venomous snakes we live in a world filled with subconscious messages and seductions and we are bombarded with an overload of information and stimuli. This is very confusing for the brain and because of the perceived threats we become susceptible to stress, addictions, disease and depression".
What makes this workshop different from what you normally do?
"We normally teach trainings leading to a certification and they consist generally of 4 modules of 4 days spread over 2 years so people get the chance to digest and work with what they have learned and you see them grow over this time to new levels of health, happiness, awareness and consciousness and they can help other people with their new skillsets".

Clear Your Sabotages towards Health, Wealth & Happiness.
Make 2019 Your Best Year yet!
The workshop is held in English,
with simultaneous translation in Italian





RIGHT OR RIGHT?




Most people forget their New Year's intentions within 10 days
Every year we make the same fleeting intentions as the year before; we briefly think about what we should do better, often know what we should stop doing and what we should do more of!
Some times we even make a list, but if you're honest you know that after a few weeks, something happens: Life goes on like usual and you are back to square one.
Common New Years lists
Weightloss

Stop smoking

Eating healthier

Exercise

Meditate

Learn some new skills

Manifest a fulfilling relationship

Find a new job

Start your own business

Make more profit

Worry less, stress less and love more

Become more efficient
Which one did we forget?
Time for self, speak your truth, read more books, save more money? Whatever it is, there is always a reason we sabotage ourselves.
KICKSTART YOUR LIFE




Monday - Friday: 10am - 6pm
[email protected]
2-day workshop only at € 167 or in streaming at € 97
Special offer valid within Januar, 23rd
The price includes:
Admission to the workshop
Simultaneous translation
Teaching material
Water during the workshop

Drs. ANTI-SABOTAGE: Joy & Roy Martina


Dr. Joy Martina's clearings are of the highest level
Dr. Joy Martina is the first Psychic Psychologist, she sees beyond the normal 3-Dimensional reality and behind the veil of a person to access the persona of the authentic self. This allows her to assist her clients in clearing the deepest patterns of sabotage; those hidden beyond your conscious levels of awareness. Her specialty is to channel pure healing vibrations right into the group she works with to clear invisible energetic links to the past and negative energies that can block our light and life force.
Her presence holds the healing space for the higher-level soul mind body clearings which go back lifetimes, bloodlines and sometimes soul lines.
Dr. Joy Martina's clearings go beyond body, mind and soul!
Roy Martina MD, was one of the first holistic doctors to create a new approach towards resolving subconscious sabotage for his patients, who were sabotaging their healing by not doing what they were supposed to do... like stop smoking, eat healthier, lose weight, drink more water, and move more etc.!
Even some cancer patients would not change their habits although they knew they would die if they did not! He did his research and developed a new therapy named Emotional Balance; his book with the same title became a world bestseller... even in China, Russia and the USA!
He discovered the exact reasons why we stay stuck in the same patterns over and over. He has trained and coached thousands of people (including world champions and Hollywood celebrities) with this anti-sabotage technique that even after 30 years is still one of the most effective therapies around.
Dr. Roy Martina's clearing is after 30 years still one of the most effective anti-sabotage methods available today
CLEARING OF SUBCONSCIOUS PATTERNS


Clearing means erasing a pattern for good



In this two day event, Drs. Joy & Roy Martina will lead the participants through some of the new clearing techniques they developed together, which have proven to be more powerful than ever.
Clearing means: destroying the subconscious patterns that cause sabotage by eliminating the root causes of these patterns. Once you have cleared a pattern it is gone forever! That means that you will stop sabotaging yourself with that pattern.
LEARN FROM WORLD'S BEST EXPERTS IN ANTI-SABOTAGE


Drs. Martina are the TOP experts on helping people become more successful and live happier, healthier lives



Drs. Joy & Roy Martina are living examples of the effects of clearing sabotage patterns. They relentlessly work on themselves and are also fitness and yoga experts... they really walk their talk! They teach their techniques in China, USA, Europe and Russia.
They are also constantly working on clearing their own subconscious patterns and those of their family.
The truth is that we all have deep hidden patterns that affect our lives, work, health and wellbeing. This weekend will help you eliminate the big sabotages in your life!
DO YOU WANT THEORY OR THERAPY?


Therapy is much better than talking about a problem or theory
Drs. Martina could speak for days about the theory behind this methods and explain in detail how and why it works. That would be a very interesting two days, but you would go home without changing your patterns.
OR
Would you prefer to spend two days with these world famous holistic doctor and Life Coaches and get the best and fastest therapy possible to break the patterns that make you sabotage yourself?
COACHING BY TWO OF THE BEST TRAINERS FOR LESS THAN € 150


This weekend is less than 150 euros
What if in this weekend you will get the equivalent of 10 sessions of therapy, which would average around a price of 150 euros per session (by most Top Coaches) and would be a total of 1500 euros worth of therapy. Drs. Martina are paid 1250 euros a hour, which would put your price tag above 12.500 euros if you would want to see them personally. They only takes 8 clients per year for coaching.
Timetable
Saturday, February 2nd
8.30am - 10.00am Registration
10.00am - 1.00pm Workshop
1.00pm - 2.30pm Lunch
2.30pm - 7.00pm Workshop

Sunday, February 3rd
8.30am - 9.30am Main room open
9.30am - 1.00pm Workshop
1.00pm - 2.30pm Lunch
2.30pm - 4.00pm Workshop

Translation

The workshop is held in English,
with simultaneous translation in Italian
WHAT DO YOU HAVE TO LOSE?
In the worst case scenario you lose a weekend and some euros, if you give Drs. Martina a chance you lose most of your most important subconscious sabotages and go home with higher self-esteem, more confidence in your abilities and much more awareness of how you sabotage yourself and how you can reverse it!
FOR BUSINESS PEOPLE WHO WANT TO DO BETTER


Life will never be the same
Drs. Martina have coached many entrepreneurs to higher profits with less work, so if you are an independent business owner, this is a workshop you want to attend. You will become so much more successful when you stop sabotaging yourself!
ARE YOU READY TO KICKSTART 2019?


Everybody will get cleared guaranteed!
For less than 100 euro you get two days of intense clearing of your deepest sabotage mechanisms and Dr. Martina will go on until everyone is cleared for the pattern he is working on. He can test who is not cleared of the pattern.
SIGN UP AS SOON AS POSSIBLE, THERE ARE ONLY LIMITED PLACES


First come first served
At this very low price this weekend will be sold out for sure, people will come from Germany, UK, Belgium, Austria and Italy because this even is only in the Netherlands and is not done anywhere else in the world for this price.
BRING FAMILY, FRIENDS AND LOVED ONES


Give the best gift that will keep giving for life
If you have children older than 18 years bring them, it will be the best gift you have ever given to them, it would neutralize many of the mistakes we all parents make!
Bring your partners, friends and loved ones to grow together and share the spirit of success. For this price you can bring everybody.
Venue

The workshop will be held at Parchi del Garda Hotel, in Pacengo di Lazise.
KICKSTART YOUR LIFE




Monday - Friday: 10am - 6pm
[email protected]
2-day workshop only at € 167 or in streaming at € 97
Special offer valid within Januar, 223rd
The price includes:
Admission to the workshop
Simultaneous translation
Teaching material
Water during the workshop

For more informations write an email to [email protected] or
call

the office at +39 0541341038 from Monday to Friday, from 10.00am till 06.00pm